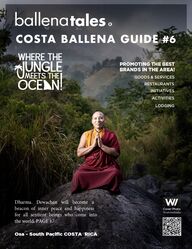 Return to flip book view
Costa Ballena Costa Rica Guide
Page 1
COSTA BALLENA - OSA - SOUTH PACIFICGuide#1JUNE - NOVEMBER 2021
Page 2
We are a real estate company with a purpose: To help you love where you live.Your dream property awaits you in Costa Rica's South Pacic coast — where the moun-tains meet the sea and vibrant greens and blues collide to create the property of your dreams. Paradise can be yours to behold when you work with trusted agents who honor a tradition of great service. Step into the good life and discov-er yourself in Costa Ballena with Osa Tropical Properties.Perfect location modern home a close walk to beaches2 BEDROOMS, 2 BATHROOMS | UVITA | $479,000 | ID # 8079HUGE VIEWS HIGH ELEVATION HOME AT THE TOP OF THE WORLD3 BEDROOMS, 2.5 BATHROOMS | BALSAR | $385,000 | ID # 4345LUXURY HOME IN CENTRAL LOCATION2 BEDROOMS | UVITA | $439,000 | ID # 8078modern MOUNTAIN VIEW HOME AND POOL3 BEDROOMS | OJOCHAL | $499,000 | ID # 5216NEW HILLTOP HOME WITH OCEAN VIEWS2 BEDROOMS | PALMAR | $350,000 | ID # 9004dream destination mountain lot0.13 ACRES | OJOCHAL | $27,900 | ID # 9523OCEAN VIEW LOT WITH LEGAL WATER1.42 ACRES | OJOCHAL | $115,000 | ID # 5702JUNGLE LOT WITH TWO BUILDING SITES3.4 ACRES | OJOCHAL | $79,000 | ID # 4372Discover yourself in Costa Ballenawww.osatropicalproperties.comwww.osatropicalproperties.comsouth pacific costa rica's real estate expertsvisit us on our social media channels@OSATROPICALPROPERTIES3.14 acre front ridgeocean view lot IN OJOCHAL$699,000 | ID # 8030 p5 acre front ridgeocean view lot IN OJOCHAL$550,000 | ID # 8049 p+ more lots availablein this location
Page 3
We are a real estate company with a purpose: To help you love where you live. Your dream property awaits you in Costa Rica's South Pacic coast — where the moun-tains meet the sea and vibrant greens and blues collide to create the property of your dreams. Paradise can be yours to behold when you work with trusted agents who honor a tradition of great service. Step into the good life and discov-er yourself in Costa Ballena with Osa Tropical Properties.Perfect location modern home a close walk to beaches2 BEDROOMS, 2 BATHROOMS | UVITA | $479,000 | ID # 8079HUGE VIEWS HIGH ELEVATION HOME AT THE TOP OF THE WORLD3 BEDROOMS, 2.5 BATHROOMS | BALSAR | $385,000 | ID # 4345LUXURY HOME IN CENTRAL LOCATION2 BEDROOMS | UVITA | $439,000 | ID # 8078modern MOUNTAIN VIEW HOME AND POOL3 BEDROOMS | OJOCHAL | $499,000 | ID # 5216NEW HILLTOP HOME WITH OCEAN VIEWS2 BEDROOMS | PALMAR | $350,000 | ID # 9004dream destination mountain lot0.13 ACRES | OJOCHAL | $27,900 | ID # 9523OCEAN VIEW LOT WITH LEGAL WATER1.42 ACRES | OJOCHAL | $115,000 | ID # 5702JUNGLE LOT WITH TWO BUILDING SITES3.4 ACRES | OJOCHAL | $79,000 | ID # 4372Discover yourself in Costa Ballenawww.osatropicalproperties.comwww.osatropicalproperties.comsouth pacific costa rica's real estate expertsvisit us on our social media channels@OSATROPICALPROPERTIES3.14 acre front ridgeocean view lot IN OJOCHAL$699,000 | ID # 8030 p5 acre front ridgeocean view lot IN OJOCHAL$550,000 | ID # 8049 p+ more lots availablein this location
Page 4
CONTENT GUIDE # 1COSTA BALLENA . . . . . .DOMINICAL . . . . . . . Where to Eat . . . . . . . .La Palapa Restaurant . . . . . . Blue Morpho Property Management . . Body Revitalization Center . . . .Costa Ballena Map . . . . . . . The Call of the Whales . . . . . .UVITA . . . . . . . . . . Where to Eat . . . . . . . .GastroPub SimbiOsa . . . . . .The Tucan Hotel . . . . . . .Dancing in the Rain . . . . . .The Private Chef . . . . . . .A Family Enterpreneurship - Farmacias IbarraSurf Season on the Ballena Coast . . . Bahía Ballena Doctors . . . . . .OJOCHAL . . . . . . . . .Where to Eat . . . . . . . .Rafael Steyners´ Rythm . . . . . .Feng Shui . . . . . . . . .The First Step in Business / Real Estate . . 07101113151618202223262728313235373839414344MICHAEL CHÉVEZ VALVERDE (COVER PHOTO) Michael was born in Costa Ballena. Only seven years old, he was already procient on the surfboard. He is a certied tour guide and gives private surf classes. Whatsapp: 8415 1961 ARIEL LUCIANO GONZÁLEZ Ariel started surng when he was eight years old. At the age of 17, he took part in national competitions and started working as a lifeguard in Dominical. Today, with 31 years, he is ranking in 3rd place, category Longboard of the National Surf Circuit. He is a private surf instructor. On Instagram, you will nd him as Uvasurf.. Whatsapp: 6184 0390 FEATURED SURFERSTIDE CHARTS
Page 5
EDITORIAL TEAM DAGMAR REINHARD Editor in Chief(506) 8914 1568 / 2743 8778ballenatales@gmail.comART & DESIGNPOINTING MARKETAÑÑESKA ARRIECHE R.anneska@ballenatales.comDIGITAL COORDINATORCARLOS LEÓNcarlos@ballenatales.comCONTRIBUTORS: ALEXANDRA LUTYAÑÑESKA ARRIECHECARLOS LEÓN DAGMAR REINHARDDINIA OTAROLA GREG GORDONIDESIGN.COSTABALLENA PHARM. JEIMMY GARCIA JONATHAN MARTÍN KRISTIN GRAYCE MCGARY DRA. MONICA ALFARO NICOLE JOSS NIKI NORLOCK PIERRE GOFARDMAP DESIGNCAMALEON ESTUDIOPHOTOGRAPHY BALLENA TALES PHOTOGRAPHYAÑÑESKA ARRIECHECONECATOSA TROPICAL PROPERTIESPINEAPPLE TOURS REPTILANDIA RESERVA PLAYA TORTUGASIERRA GOODMANCOVER PHOTOCONECATMICHAEL CHEVEZ NEXT EDITIONDecember 2021 Guide #1The South Pacic of Costa Rica is a region of intense beautywith a rich cultural heritage. People from different parts of the world came to stay and integrate with those who originally lived in this beautiful place. Since then, the migration to this paradise has not stopped; the destination shows a diversity of microclimates in its mountainous and coastal areas, allowing whoever wishes to settle in the place they consider ideal to choose.Costa Ballena is the South Pacic region of Costa Rica, where the sea meets the mountains. Only divided by the Costanera Sur that runs parallel to the tropical beaches from the Rio Barú to Ojochal, the coastal landscapes of Costa Ballena are emerald blue and quiet beaches that contrast with the intense green of primary and secondary forests.The Ballena Tales team is part of those multicultural people who came here and fell in love with the place forever. We are expert connoisseurs of our destination, and this time we are delighted to present the rst printed and interactive guide to Costa Ballena.We are presenting this helpful guide with answers for those who live here and especially for those who visit us to familiarize them with the cities of Dominical, Uvita, Ojochal, and their surroundings. Professional services, what to do, where to stay, and what to eat?ADVERTISE WITH US!
Page 6
Page 7
Costa Ballena is a friendly, beautiful, engaging, and tasty part of the South Pacic of Costa Rica that welcomes domestic and international visitors on crossing The Barú River´s bridge at Dominical: the entrance to Costa Ballena.There are three principal towns: Dominical, Uvita, and Ojochal. All of them completely different in their appearance.Dominical is famous for its laidback pura-vida ambiance and best surng conditions – friendly locals, a one-strip main roadleading to the town´s beach promenade.Best surf, lifeguards, bars, and hostels nearthe beach and the everchanging mouth ofthe majestic Barú River.Uvita, only 17 km toward the South, is some sort of the capital of Costa Ballena, all facilities in two town centers, one North and the other South of the bridge, Farmers Market, Marine Ballena National Park, the world-famous whale tail, waterfalls, beaches. Ojochal: International high-cuisine. Crossing the bridge, nd a chic French-style Marketplace with the notable Citrus Restaurant. The main road is long-stretched, leading to the town center and the mountains with rivers and a waterfall. Visit Tortuga beach, where three mighty rivers force their way into the ocean. 77
Page 8
Costa Ballena is a 35 km stretch of coastline in CostaRica's South Pacic. There are three major towns: Dominical to the north, the chilled surf spot, and nightlife going on, Ojochal to the south, the culinary hotspot in Costa Ballena, where many foreigners, especially French Canadiens, found their retirement paradise and wonderful Uvita in between, where numerous shops, supermarkets, restaurants, bars, banks, and Farmer's markets can be found.Costa Ballena translated means whale coast in the Spanish language.When it comes to snorkeling or diving tours, you can watch marine life, like dolphins and turtles, their ancestral behavior, and in their (still) natural habitat. The Ballena National Park is just a small but essential part of the natural paradise called Costa Ballena.You will be amazed by the long-stretched beaches, all very different from each other. 8
Page 9
If you do not like getting sandy, you can participate in otheractivities, such as going sportshing or giving yourself a surge of adrenalin with tree-climbing adventures. And suppose it is the salty seawater you are trying to avoid. In that case, you can go swimming in one of the numerous rivers and discover the magnicent waterfalls that nature created in this paradise.But where to stay during your vacation in the green paradise called Costa Ballena?There are hundreds of possibilities, and you just must decide whether you prefer a cozy place near the ocean or in the mountains with a magnicent view over the ocean. Whether you go for a high-end place to calm down and relax or a hostel for young people, there are plenty of options for you at the Costa Ballena. After all these beautiful experiences, you may end up with a ravenous appetite in one of the international restaurants or others specialized in local food, sodas, and bars the coast offers to you. No matter where you are, you will nd unique places to eat. The food choices are outstanding, and they are delicious.9
Page 10
Live the surfer way of life in this part of paradise, calledDominical!You have the wrong impression if you think Dominical is just made for the surfers. It is a former sher town grown bigger due to the good conditions for surng. While growing bigger, more and more non-surng tourists discovered the charming city as their favorite place. Dominical offers you everything from low-budget hostelsfor cost-conscious backpackers to high-class boutique hotels, resorts, and lodges ideal for families.In case you don´t surf and neither want to learn it, there are plenty of other things for you to do in Dominical. You can, for example, visit the wildlife refuge, make a trip to the magnicent Nauyaca Waterfall Nature Park, or book a tour to the beautiful Cano Island and scuba dive through the incredible underwater world. No matter what you are up to, you will nd it in Dominical!Many foreigners, mostly NorthAmericans, settled here and established their company, for example, a surf shop, where surf beginners can take their rst steps onto the waves. Others opened a restaurant, and that´s why there is a wide range of different types of restaurants.So, no matter who you are and what you prefer to eat, Dominical is for everybody!But where to stay and where to eat?10
Page 11
SIGNATURE CUISINECONFERENCE ROOMBREAKFAST, BRUNCH, PASTRIES Local organic coffee, Artisan bakeryCome to Dominical andleave the world behind. Relieve the stress and breath the ocean breeze while sitting in a lounge chair at the beautiful beach of Dominical enjoying the sunset.No doubt, Dominical isthe surfer paradise among the cities of Costa Ballena. The people are kind; the waves are big, and the welcoming atmosphere is just perfect. If you are a surf enthusiast, this is your place! 11 Entrance to Escaleras ft. of Hotel Cuna del Angel - 1.2 KM uphill Daily 11:30 AM - 9 PM+506 2787 4343PuertoCito – Hotel Cuna del Angel +5068805 8172+5068805 8172Daily 7 AM -5 PMDaily 6:30 AM -9 PMLA PALAPA RESTAURANT Breakfast, Lunch, Snacks, Cocktails and Dinner+506 2101 4 4 31Dominicalito Beach on the Coastal HigwaySeafood, Meat, Pastas y SnacksDaily 11 AM -9 PMEntrance to Escaleras ft. of Hotel Cuna del Angel - 1.2 KM uphill
Page 12
Page 13
Guillermo Saenz, alias Memo, is Chef at Restaurant "La Palapa", Hotel Cuna del Ángel. Chef Memo has a long history as a gastronome, trained in Spain and Italy. He worked for several years in well-known international restaurants in San José. This allowed him to create an expansive vision of highend-cuisine and legendary dishes fusing with tropical ingredients from Costa Rica. In 2011, he moved to Costa Ballena to dedicate his expertise to La Palapa Restaurant at the enchanting Cuna del Ángel Hotel. In 2013, Chef Memo and his team started with a "gluten-free" project to also satisfy celiac guests. For months they researched, tested and perfected the recipes until also the bread had a consistency that was approved by Don Tom, the owner of the angelic hotel. And in 2014, the Palapa Restaurant was declared 100% Everybody, big and small, intolerant or not, diners can now choose from a wide range of exquisite international dishes and enjoy a homemade ice cream or a delicate crème brûlée for that you, celiac or not, won´t notice the difference.The own permaculture Project "Finca Heartsong", delivers fresh herbs, some hydroponic vegetables, ingredients for the famous "Jungle Salad", tropical fruit and the cacao for desserts and ice cream. And creative Chef Memo will pamper all your senses, serving 100% gluten-free and gourmet dining with a selected choice of wines and incredible views.La Palapa is open for guests and the general public daily from 6:30 a.m. to 10:00 p.m. We serve breakfast, lunch, snacks, cocktails, and an exquisite menu for dinner.LA PALAPA RESTAURANT100% GLUTEN FREEAUTHOR: DAGMAR REINHARD
Page 14
Page 15
Page 16
THE CALL OF THE WHALESAUTHOR: RONJA KÖTZERWe turn our backs on the mystical Ballena Island, passing pristine bays, embedded in imposing rock formations, and make our way to the landmark of Uvita: the Whales Tail. Here we go under the water to meet the creatures of the sea at eye level. Along the coral reef, we discover all kinds of sh and even a turtle. After this successful snorkeling excursion, we return to the boat where cold water and fresh fruits await us. With a view of the jungle-covered, lush green mountains surrounding the palm-lined beach, we make our way back towards the exit and let these memorable impressions sink in.It is a bright and beautiful morning when we set off to ndthe namesake of the Costa Ballena.Each of the visitors on the small boat unconsciously holds their breath to be able to follow any call of the whales. Excitement and expectation are in the air, and the mood is tense. And then, nally, the captain points out to something in the water and shouts "ballena". A murmur goes through the crowd as the boat approaches the small whale family that has gathered in front of Isla Ballena (Whale Island) to present us with a fascinating natural spectacle.Let the show begin: with a snort, the humpback whale shoots a surge of ne water into the air and emits a deep, mufed sound that spreads out over the seabed. The dark giants of the sea, slowly rise to the surface, the water splits, and the rm skin with its impressive pocks and scars emerges. To crown their performance, the 25-tonne giant shoots out of the water, as acrobatically elegant as one would not expect from a caliber of this size. With a loud thud, he claps back into the water as the spectators breathe out the air, they have been holding in.Thousands of miles, these gentle giants travel to raise their babies in the Marino Ballena National Park. Thanks to national parks, after years of threat of extinction, the population of humpback whales is now growing again.BOOK YOUR TOUR NOW!
Page 17
Page 18
PLAZA SOLO BUENO #3 IN FRONT OF THE SOCCER FIELD, DOMINICAL +506 2101 - 2218WWW.BLUEMORPHODOMINICAL.COMProperty Management Rental Agent Concierge Services Vacation Rental BookingsEvent Planning
Page 19
There is a new Property Management company in town, located at the only recently inaugurated state of the art Plaza Solo Bueno in Dominical.Blue Morpho covers property management services, concierge services, vacation, and long-term rental opportunities. They are committed to offering their clients extraordinary trustworthy, and reliable service. The goal is to maintain each property to the highest standards while ensuring the rate of return for rental income meets or exceeds our clients' expectations. Blue Morpho watches over your home and work toward maximum occupancy, all documentation will be kept current. Taxes and fees will be administered as needed, so your vacation is not only extraordinary but worry-free. When you are not in residence, you can rest assured that your home is cared for with professionalism. Our staff and experienced contractors will approach any issues with customized solutions as required. Service is available weekly, biweekly, or monthly for interior and exterior cleaning, landscape and pool maintenance, and handyman services. As well as bill and tax pay assistance, auto maintenance, and inspections. As your trusted property managers in Costa Rica, they will responsibly handle your property rental from pre-arrival to check-out so you can earn income from your property when you are not here to enjoy it.The company offers an abundance of short and long-term rentals and will nd the perfect home solution for your vacation or a more extended stay here in the land of Pura Vida.Before you arrive in Costa Rica, the Blue Morpho concierge services can guide you and make arrangements for shuttle services to bring you to the beautiful Costa Ballena. Once you have relaxed at your comfortable home, you will want to know the environment. Let us rent a suitable car for you and then take a surf lesson at the long sandy beaches, try zip lines, a whale watching or shing tour or bird watching. Blue Morpho can reserve dinner at the restaurant of your choice or plan an event for you and your family. They can provide chef services, catering, and arrange fruit and vegetable deliveries. So you can enjoy this amazing Costa Rica experience to the fullest.Please see ad on the opposite page.Blue Morpho Property Management19
Page 20
BODY REVITALIZATION CENTERDo you feel stress about the circumstances in your life or the world that surrounds you?Do you have nagging physical symptoms?Are you looking to reconnect and relax?The Body Revitalization Center is here to help!Our team consists of professional holistic therapists with decades of experience.It is our highest intention that our clients and community enjoy total wellbeing.We don't just treat symptoms and stress but treat you as a whole being. Jürgen Müller:Healing and therapeutic masseur since 1996 and many years as a sports masseur. Reexology since 2003. Reiki training since 2007. I am passionate about healing and have been called to share it with boundless love. I am also a Massage teacher, helping others expand their healing work. I have developed my massage techniques to help you achieve optimal wellbeing with the Universal energy of Reiki. Please come and experience deep relaxation and revitalization through foot and hand reexology and full body massage. 20
Page 21
Laura Bruquetas: Book AuthorI am passionate about nature and the human being.Graduated in traditional Chinese medicine (MTCM), Reiki, and Life Coaching. For over a decade, I have been a professional therapist in comprehensive health care. I am recognized for treating physical or mental illnesses with Acupuncture, Reexology, Reiki, Massage, and Biodecoding with the rigor of N.L.P. I work with Ancestral medicine in 'modern' times to ensure physical, emotional, mental, and spiritual wellbeing.Kristin Grayce McGary: LAc, MAc, (Traditional Asian Medicine) CFMP ®, Adv CST-T, CLPInternational Author and Speaker and known as the Health and Lifestyle Alchemist. For more than two decades, I specialize in an individualized approach, integrating body, mind, and spirit; to empower you to awaken to your highest self through: Acupuncture, advanced craniosacral therapy, and somatoemotional release, Functional Healthcare, neural and perineural injection therapy, homeopathy, nutrition and lifestyle guidance, soul care, sound healing, medical qi gong, and sacred medicine journeys to name a few.All therapists on our team have been living in Costa Rica for several years. We are blessed to offer visitors and locals our holistic healing therapies to help them relax, reconnect, and lead a healthier life.21+506 7082 0136Three therapists Jürgen, Kristin, and Laura have much to offer: Functional HealthcareHealing, Therapeutic and Sports MassageReikiReexologyAcupuncture (Traditional Chinese medicine)Bio decoding and Life CoachingCraniosacral TherapyHomeopathySomato-emotional ReleaseNutritionLifestyle Guidancemassage.dominical@gmail.comIn the Comfort of your Home or at our new Center in Baru - Dominical
Page 22
WWW Uvita is the biggest townhere in Costa Ballena, and still, this does not mean the days are busy and stressful over here. This town owns the charm of a cozy little township situated in the incredibly lovely Costa Ballena.This Garden of Eden might become your favorite place to stay here. Some beaches, for example, Playa Uvita will appear to you like you have shipwrecked somewhere in the middle of nowhere, and you might feel like Robinson Crusoe. Nature is just magnicent over here. The jungle almost reaches the wonderful kilometer-long beach of Uvita, and you might see the monkeys swinging through the trees while you go for a swim in the crystal-clear water.And no doubt there is a reason to call it paradise:Nature here is outstand- ingly beautiful, whether you are talking about beaches, landscape, or especially the underwater world of the Pacic Ocean. Uvita is a pleasant town where you will nd everything you need, and the beaches, especially those located in the Marino Ballena National Park, will never be crowded.22
Page 23
Vegan avors. Caramelo, salted, Stracciatella,vanilla, organic chocolate chips, basil, pralinés, ginger.WWW23Twice a year, CostaBallena celebrates whale season. Uvita is known as one of the best places in the world for whale watching and you can observe these gentle giants pass by the famous whales' tail, the symbol of Uvita. This beach is part of the extraordinary Marino Ballena National Park.Daily 11 AM - 9 PM TUESDAY COSEDWINE BAR • CAFE • SUSHI Monday - Saturday 12 PM - 9 PM+506 2215 0068600 meters from BCR towards the Uvita WaterfallMonday – Sunday 7 AM – 9 PM+506 8948 7986In front of Pacico Supermarket - UvitaBread specialities. Order your birthday cake! +506 2743 8674+506 8997 8474Monday – Sunday 10 AM – 9 PMDaily 7 AM – 9 PM+506 4702 3939In front of Pacico Supermarket - Uvita100 M East of BCR - TUCAN HOTEL 300m North of the Gas StationExotic Fusion Food
Page 24
24In previous years, Uvita had been hosting the one-week Envision Festival with thousands of people. It was not only a music festival, with world-famous live acts and DJs, but hosted workshops, like yoga, dance, and even martial arts classes. It was a festival with high sustainability values and avoiding plastic waste.There are plenty of possibilities to book whale watching tours, snorkeling exploring the breathtaking underwater world, or dive, as you booked a scuba dive tour, something you won´t regret. Furthermore, Uvita offers visitors various rivers and numerous impressive waterfalls, where you should take the opportunity to oat in pure cool mountain water.If you prefer staying dry, you can choose within a wide range of different activities, such as hiking in the mountains and discovering the pure beauty of the inland of Costa Ballena. Enjoy watching the animals taking a trip in the wilderness. Just be sure to bring a friend and your camera. FFortunately, you will nd some of the nest restaurants and bars among the whole Costa Ballena here in Uvita. No matter what you prefer to eat or drink, Uvita offers you everything: high-quality food, freshly cooked, and very delicious in a laidback atmosphere for reasonable prices. You are likely to nd international European cuisine (Italian pizza places or a French cafe), a great little ice cream parlor, American food (Burgers, BBQ, and more), and Chinese, vegan, nonvegan or gluten free. Whatever you are up to, you will nd it quickly, freshly cooked, and delicious.Last but not least, Uvita has excellent hotels, lodges, hostels, and other wonderful accommodations. You just must decide whether you want to stay in a cozy place near to town or the mountains with a magnicent view over the ocean. Whether you prefer a relaxed place to calm down or a hostel with young people, there are plenty of options for you here in Uvita. Just come over and live the Pura Vida way of life.
Page 25
100% Gluten Free RestaurantGourmet seafood and meat menuesPANTONE 1255C C : 24 M : 42 J : 91 N :14French Savoir Faire in Bahía BallenaEvery Day – 7 AM to 9 PMFrench Savoir FaireChinese-American FoodInternational Food with Austrian Touch Breakfast buffet, Lunch & Dinner Cocktail-BarFresh Fusion DishesVegan and Gluten Free Options25+506 8507 4949+5062201 8253+5068372 7144+5068390 6863+5062786 5407Tuesday – Sunday 12 M – 9 PMPlaza Pacic Pools BuildingDaily 7 AM - 9 PMPlaza Bahía Moana Calle Ballena – Bahía 3 KM South of UvitaDaily 11 AM - 9 PMDaily 7 AM - 5 PMKM 169 Hotel Cristal BallenaTues-Sun 11 AM-4 PM / Fri-Sat 11 AM-8 PM6 KM South of Uvita next to Ballena Beach
Page 26
In a town that is quickly becoming a foodie destination,one new restaurant stands out. Tucked quietly behind bustling Uvita center is a hidden gastropub gem called SimbiOsa. Menus and specials are updated frequently by fearless chefs and perfected by the discerning taste of the Canadian owner, Niki Norlock. SimbiOsa delivers surprising and unique dishes crafted from high-quality local ingredients with a focus on fusion and artistic expression. From poutine, said to be t to compete on the streets of Montreal, to artisan sushi, the kitchen offers creations that focus on unusual avor combinations. Their signature 'SimbiOsa Roll' – salmon rolled with mango and cream cheese then coated in Cacao - often leaves rst time guests wide-eyed with unexpected pleasure. Following the philosophy that food is art, they push the boundaries of creative cuisine by regularly catering to guests' whims. Bringing food fantasies to life, SimbiOsa specializes in preparing and serving anything their guests desire. Personable bartenders tempt you with tropical delights and the service staff are always ready with a welcoming smile and the occasional dance step.After a night out at SimbiOsa, it's hard not to talk about it. So many unexpected pairings that incite the imagination and pleasure the palate! Spacious and open with a stylish and sleek decor it isan oasis of culture amid the wild tangle of the jungle. Described by many as an adult playground, with a full-sized pool, poolside service, a handmade stone sh pond, murals and locally created art and crafts, there is always something to entertain the senses. With comfortable seating areas for small groups, hammocks to relax in, and individual workstations, it is an ideal place to spend an afternoon hidden away from the world.Open seven days a week from 7 am to 9 pm, with all-day breakfast, lunch, and dinner options. Special requests are available by reservation only. SimbiOsa is located inside the newly renovated Tucan Hotel, 50 meters east of Banco Costa Rica, on the road towards the Uvita waterfall.GASTROPUB SIMBIOSAAUTHOR: NIKI NORLOCKTHE HOTEL TUCAN 26+506 2101 2542+506 8997 8474
Page 27
The Tucan Hotel in Uvita has twelve rooms, all with theirprivate bathrooms and most with AC. Prices vary according to the season but are always competitive! The restaurant SimbiOsa is rapidly becoming a local favorite, and every guest gets to enjoy the restaurant as breakfast is included in the room's price. The common areas are spacious and allow guests to relax even when it pours outside.You can usually nd the owners, Pierre & Sara working hard on a new project in the space as they cannot rest until the Tucan is a perfect representation of their vision. Feel free to come and check out the space they have created (especially if you knew the Tucan from before – you will be surprised!). And to incite you to do so, they are putting together lots of events such as Paint Night, Live Music gigs, Movie Nights, and more to give the people of Costa Ballena a great space to spend their days and nights.In July 2019, a Canadian couple Pierre and Sara took to the road and drove from Northern Quebec to Uvita. The RV they used is now a part of the hotel they bought and renovated and will forever remind the trip of a lifetime. 7,500 kilometers, seven countries, three people, four dogs, and one cat later, they nally arrived (more or less) safe and sound!The destination was the Tucan Hotel in Uvita, a well-established hostel in the heart of town that had seen better days. The potential was huge, but some much-needed elbow grease and vision were needed to bring out the jewel that it is. Over the next few months, the transformation occurred in the form of brand-new rooms with updated details. Everything was going swimmingly until the world descended into chaos and the tourism industry took a sharp turn for the worse in March 2020.Faced with a closed hotel and no prospects for international tourism in the foreseeable future, Pierre & Sara decided to double down on their project and bring forward the Tucan 5-year plan to life immediately. Surrounding themselves with incredible people from all walks of life, they took on the nal upgrades in this unique space: they installed a large pool in the back, two solar water-heaters adorn the brand-new roof, the restaurant was overhauled and given a new identity (SimbiOsa – Fusion Cuisine), the parking lot doubled in size, and they now have a shark tank! It was a lot of hard work, and most of it was taken on directly by the owners and the staff, but things are nally coming together!Come and we show you around! GASTROPUB SIMBIOSATHE HOTEL TUCAN AUTHOR: PIERRE & SARA27+506 2101 2519+506 8628 1591
Page 28
Although some prefer to call the rainy season in CostaRica the "green season," they aren't fooling anyone. In the South Pacic, it is green year-round. There is only one time of year which is regularly wet. The period usually between May and November is when the downpours begin almost daily around 1 pm and gush down for hours, with sporadic dry respites. Ask anyone who has lived here for a little while, and they will tell you that the rainy season is their absolute favorite time of year. We may have moved here for the heat, but the rain now moves us. Why do we like it? Rainy season or not, Costa Rica's coastal regions are hot. Even if it's raining, we don't need to hide inside for fear that we might freeze to the core. Getting a little wet doesn't hurt and can be a welcome refresher. The rainy season is when most people here actually feel invigorated by the more refreshing temperatures and get moving a little bit faster. We are more apt to exercise when it's not nearly 27 C at 7 am. Most tourists are scared off by the prospect of rain, even though we have almost guaranteed bright blue skies and sunshine, until at least noon, all year long. This is the time of year that we are more likely to travel, with less trafc and better deals in hotels, tours, and shopping specials all over the country. Welcome wildlife encounters The majority of homes in the South Pacic are located between 200 m and 1000 m above sea level in tropical wet forests. This region needs heavy rains (between 120" and 160" annually) to nourish the lush plant life and fruiting trees that spring to life, blossoming and blooming in full force during the rainy season. These are the months when we are blessed with ripe mangos, avocados, rambutan (locally known as mamon chino), and starfruit.A fruiting garden will bring more wildlife like sloths, squirrel monkeys, ery-billed aracari, and toucans within sight of our doorsteps. Defog your brain in the misty mountains of the South Pacic during the rainy season, and you'll never look at storms the same again. The rain is here to help us grow, too."Life isn't about waiting for the storm to pass... It's about learning to dance in the rain." ― Vivian GreeneDANCING IN THE RAINAUTHOR: ALEXANDRA LUTY / OSA TROPICAL PROPERTIES28
Page 29
Page 30
The Dining Expience.+506 8526 4974@theprivatechefscrtheprivatechefscrwww.crchefs.comcateringuvita@gmail.com
Page 31
YOUR VERY SPECIAL CATERING SERVICEAUTHOR: DAGMAR REINHARD"My mom is my idol; I've always been in love with her recipes." At a young age, Royner Abarca, owner of El Private Chef and proud Costa Rican, began a passionate relationship with gastronomy. Eight years ago, he perceived the great need in Costa Ballena for catering services for events and all kinds of celebrations, from weddings and birthdays to corporate events.His rst big opportunity to shine with his services was during a Reality Show in 2014. In the same year, he opened SIBU restaurant in Uvita. After a year of successful management, Royner sold the restaurant to the current owners. Soon, again focused on catering, he received another call to open the Kakü restaurant, also in Uvita.His growing company The Private Chef has a team of experienced chefs in all gastronomic specialties: chef Juan Pablo Acuña, meat specialist, chef Vera Nidia Abarca, a specialist in local dishes, trained pastry chef Lupe Abarca, bartender Manrique Leiva, professional services by Estiven Arias, most of them bilingual and others, as well as the rental of equipment and utensils, today they cover more than 80 residences, ve to ten weddings a year, special events not only in the Costa Ballena area but also nationwide. The team of chefs excels in dishes of Costa Rican cuisine, international, gourmet, vegan, kosher, and they also cover yoga retreats. "We prepare buffets, brunches, or three full meals a day, and we have attended national and international celebrities."In partnership with the best team of wedding planners, photographers, orists, and decorators, The Private Chef can design your event so that you can sit back and enjoy your party.Our food's secret is the passion we have for organic products of the area, all fresh from the day. If you wish, our chefs will accompany you to a Farmer's Market to discover the unique avors that the area has to offer. You can even participate in the preparation of a new dish that you nd appealing. "The most attering recognition for us is the smile on our customers' faces and knowing that you and your guests are satised with our creations," adds Royner. Let us take care of all the preparations for your event so that you can enjoy it quietly, share and interact with your guests!"31
Page 32
Our grandfather had a medical dispensary in Pejibaye de Pérez Zeledón for many years.Jason and I grew up in Heredia in a small house, with dreams and illusions of achieving great things. My parents Olga and Guillermo decided to take us to the United States when I was 15 years old. They, among other tasks, worked in cleaning, living the "American dream."Listening to God's inner voice, this experience became the necessary impulse to know that we wanted something better for our lives. This desire to improve fueled a constant struggle in the right direction, and as part of this experience, we completed the learning of the English language.Meanwhile, my older brothers Michael and Mauricio stayed in Costa Rica, working and studying, going through difcult times without a doubt.Mauricio decided to keep working and help Michael nish his studies. After completing his career as a pharmacist, the adventure began. Our mother, Olga, already with signicant experience in pharmacies, at the age of 24, decided to open the Ibarra Pharmacy in Palmar Norte, accompanied by my brother and colleague, Dr. Michael (pharmacist).Michael helped us nish our studies, and we mobilized the other brothers with this same impulse. We migrated to the Southern Zone of Costa Rica. Mauricio in Ciudad Cortés, Jason in Sierpe (and currently in Ojochal), and myself, Jeimmy in Uvita, we opened branches to form the Ibarra Pharmacy and Macrobiotic Chain.For several years working separately due to different difculties we faced, in 2016, we decided to merge the pharmacies to work together. The process has not been easy; we have all learned a lot and work as a team. We recognize that the weakness of one is the strength of the other. We have gone through difcult times, and we have not stopped having faith that we are in the Southern Zone with a purpose.The values that we learned as children, teamwork, faith in God, the struggle despite economic problems, health, and any other circumstance give us the conviction that this will be temporary while focusing on our goals and dreams.After the branch in Cortés suffered a ood and many losses, we decided to build our own store in Cuatro Esquinas, located next to the supermarket.At Farmacias Ibarra, you will feel safe, with attentive staff, ready to serve you and attend to your concerns. More than products and medicines, we want to be your friends, answer your questions and take care of your health and that of your family.Our satisfaction is knowing that we are a blessing for this town, often giving a word of encouragement, guiding our patients, caring for them, and transmitting health in every way.32A FAMILY ENTERPRENEURSHIP
Page 33
At Farmacias Ibarra, we have dedicated many years to improve our service and care. When you enter our pharmacies, you will know that the pharmacist will always be available for you; you can ask the questions you want, have your medications reviewed, and receive instructions for the proper use.We currently have an extensive list of medications with promotions. On request, you can get one free after purchasing two or three of it.We have a wide variety of cosmetics, natural products, essential oils, dermatological products, and orthopedics line.If we do not have the product you are looking for, we try to give you a solution as soon as possible.On the second oor of the Alfaro Building located in Palmar Norte, we have periodic visits from specialists, and we want to carry out the same project in Uvita.We still have many other projects, with God's help and yours, beautiful people, we want to serve you for many more years, provide you with the best service, the same prices, and always make you feel like in a family.Farmacias y Macrobióticas Ibarra - your Trusted Pharmacies!
Page 34
Page 35
Much like our summer and winter seasons change, the seasons of big surf also changes. The summer months of hot sunny days are gone for now and a more wet, stormy, and cooler season brings more gifts. Many refer to this wet season as the "the green season". As a surfer, I just refer to it as " the surf season". Accompanied by the storms and the rains come reminisce of storms from the South Pacic and the Pacic Coast of South America. The energy from these far away storms arrives in our beaches in the shape of massive waves. As consistent as the storms, but not necessary a result of, these waves temporarily change our local beach culture.For the avid and experienced surfers, this is the highlight of the year when waves heights at certain breaks can reach up to 15ft. Different beaches and surf spots that need high swell energy to produce waves are now in their prime, and beaches that were previously enjoyed by swimmers could potentially be dangerFor those who are learning to surf, places like Playa Dominical and Playa Hermosa are only recommended if you are with a surf school. Beaches like Playa Dominicalito, Playa Uvita, and Playa Ventanas are recommended and are more manageable. With the heavy rains, the rivers are now shedding more water and as a result, create strong currents and rip tides. For those who are not surfers, there are still several beaches where you don't have to worry about giant waves and crazy rip tides. For example, Playa Pinuela, Playa Ventanas, and Playa Uvita are still ok for swimming but be cautious. For those who are learning to surf without an instructor, look to beaches like Playa Uvita, Playa Ventanas, and Playa Dominicalito.During our summer, the waves there are usually tiny to non-existent, and therefore now will have more consistent small waves.For the more advanced surfers, look to beaches like Playa Dominical, Playa Hermosa and the various reef breaks that need this high energy to create a wave. The surf season usually lasts until late October and early November.SURF SEASON ON THE BALLENA COASTAUTHOR: GREG GORDON PHOTO: CONECAT35ARIEL LUCIANO GONZÁLEZ
Page 36
CC Plaza Ventanas (next to the Gas Station)Corporation and Commercial LawResidency and Immigration LawProperty Transfers Vehicle TransfersTestamentsLast WillsChronic conditonsHypertensionDiabetesEKGSkin check BloodworkPAP smearMinor SurgerySpider Vein SclerotherapyBotulinum toxin Dermal fillersFat graftingPlasmage non-surgical eyelid rejuvenationMicro needling – DermapenPRP – Platelet rich plasmaChemical peels Fractional dermabrasion Providing you with the Quality Healthcare you are looking for+506 8833 6431 General PracticeMedical aestheticsPl a z a V e n ta n a s – Oj O c h a l d e Os adralfaro@bahiaballenadoctors.com36
Page 37
BAHIA BALLENA DOCTORSAUTHOR: DRA. MÓNICA ALFARO It has been almost 12 years since our rst visit to Costa Ballena. We decided to move here and fell in love with the area and the life we have made. My work as a physician, both as a General Practitioner and as a Medical Aesthetic provider, has allowed me to meet hundreds if not thousands of patients over these years, most of whom visit my ofce regularly. Hotel Cuna del Angel has been a wonderful place for a medical practice, comfortable, private, and in a beautiful surrounding. I have been able to practice medicine and stay close to the tourism industry, which I had also worked years ago. Nonetheless, the time has come to allow myself and my practice to grow, as everything in our community is too. This new phase holds many new opportunities at our new facility at Plaza Ventanas where we will broaden the services offered South of Uvita. for providing better services to my patients and meeting new ones. This newly renovated shopping and commercial center allows me to offer a larger, more comfortable environment for my patients with the possibility of new services soon. Full-on ofce with the waiting room, an ofce, and a separate procedure room, all areas air-conditioned, I am sure will help you feel welcome, comfortable, safe, and cared for. Parking right in front of the ofce and wheelchair access are also benets of this new space and many additional services offered at Plaza Ventanas like a Farmacia Plaza Ventanas, two restaurants, a boutique, dental services, lawyers, real estate, and many more.My General Practice covers follow-up of chronic health issues, weight loss, skin checks, PAP smears, assistance in arranging appointments with different specialists for surgery or other specialized procedures. Minor surgical procedures for diagnosing and treating skin lesions, skin tag removal, bloodwork, spider vein sclerotherapy are also among the most common services offered. Among the rejuvenation services, you can nd treatment for all your needs skin laxity, spots, visible pores, acne, scars, uneven texture or tone, volume loss, hair loss, and, of course, wrinkles. Even tightening or lifting the eyelids or rejuvenating the contour of the mouth with Plasmage or plasma energy-based therapy. Treatments include botulinum toxin type A; dermal llers like hyaluronic acid or even fat grafting or injections to the face, the hands, the chest, the earlobes; augmentation or denition of the lips; Dermapen and fractional dermabrasion as collagen induction therapy; chemical peels; radiofrequency; platelet rich plasma; PDO threads; among others. Some additional services are Plastic and Reconstructive Surgery consultations and minor procedures with Dr. Miguel Alfaro, a renowned Costa Rican Plastic Surgeon. He visits the ofce a few times a year.37
Page 38
38I If there is a town along Costa Ballena that genuinely deserves to be called a tranquil spot, it is Ojochal.If you seek quiet and calm, you will nd it here. That is one of many reasons why so many foreigners, especially French Canadians and North Americans, made their new home here in this relaxed town.That does not mean that there is nothing to do; there are many places to explore while staying here. Yoga and Pilates is offered in several retreats for peace seekers. If you love going to the beach, you should visit Playa Tortuga; and as the name says, the beach is named after the turtles that nest here, mostly Lora or English Olive Ridley, although there are reports of green and leatherback turtles. During the turtle season, they come here in large numbers to lay their eggs. Near to Ojochal is another beautiful beach called Playa Ventanas; its name comes from the big openings in the rocks that the ocean shaped like a big "ventana", the Spanish word for window.If you want to discover more of this beautiful town, you can decide if to explore your surroundings or go on horseback with a guide to explore the mountains towering over the area. No matter what you choose, be sure to bring your camera to take photos of all the animals that you will detect in the impressive landscapes in the middle of exuberant nature.
Page 39
39I +506 8729 4115Entrada de Ojochal - Plaza Los DelnesBreakfast and Lunch Vegan and Vegetarian optionMon - Sat 7 AM -4 PM+506 2786 5175Plaza TangaraCreative Gourmet Cuisine+506 2786 5543Calle Perezoso, 200 m south of OjochalInternational Cuisine Sushi - Wine Bar Daily 12 AM - 9 PM+506 4701 01101.8 km Calle Principal Ojochal de Osa Mediterranean Cuisine Homemade Ravioli, Lamb ChopThurs - Tues 4 AM -9 PMMon - Sat 11:30 AM - 9 PM
Page 40
+506 8946 7134 +506 8914 1568
Page 41
Rafael was born in the land of the famous "Guajira Guantanamera", in the picturesque valley of the city of Guantánamo, located in the Province of Guantánamo south of the Caimán Dormido, the beautiful island of Cuba.At the age of three, Rafael danced and sang to the sound of a portable radio. His mother smiled when she saw him but she never gave it much importance, since another plan was in the works since then. She would rather see him become a doctor than an artist from stage to stage. "Felito-as his family affectionately calls him, he was born on the day of Saint Raphael, Divine Doctor, and that he will be," always afrmed that imposing mother.Rafael always strived to excel in his training, both academically and artistically during his years of professional artistic education at the Vocational School of Art-EVA and at the National School of Art - ENA. The latter is a famous arts boarding school in the City of Havana. For four years, he studied various artistic disciplines to become what today can be considered a "star": dancer, singer, musician and actor.After nishing his studies graduating with honors, his mother, with great pride, understood once and for all that Rafael's vocation and passion was, is and always will be art!In Cuba he had the great honor of sharing the stage with many of the great artists, having the privilege of being part of the great cast of Tropicana de Cuba in the City of Matanzas, debuting for the rst time in the famous production and show "Simpson's Heights", under the artistic direction of the acclaimed Andrés Gutiérrez and Santiago Alfonso.After a fruitful and exciting career in Cuba, Rafael wants to expand his horizons and decides to move to Canada, where he forges himself as a competitive Ballroom dancer and reafrms his vocal skills once again, leaving a huge audience in "ahhhhhhh" from Australian, European and American stages.After long years of intense artistic life, Rafael retires as a dancer at the age of 32 and chooses the south of Costa Rica as his perfect destination for it. "Costa Rica reminds me a lot of Cuba - he exposes with feeling - I love its beaches and beautiful landscapes, it is a quiet country, with very respectful and pleasant people"Soon Rafael knew that Ojochal had his music scene, especially in the famous Bamboo Room where he swept with his songs full of feeling and rhythm. There he captured everyone's admiration, captivating the ladies who loved his art and his beautiful and infectious smile.At Sud Lounge, a pleasant restaurant with a comfortable atmosphere on the main avenue of Ojochal, Rafael performs every Friday night from 7-9 PM. A bit of show business, a bit of glamor, hot rhythms, well-known songs to sing along, an excellent atmosphere and very good cuisine. Meanwhile, he is building his dream, developing a very interesting project located in Tres Ríos, minutes south of Ojochal: Vayu Retreat Villas and Boutique Hotel, the rst hotel in Costa Rica with a holistic approach, which integrates smart technology to promote relaxation and well-being during your stay. Rafael could not contain himself and reveals a great surprise, the creation of an amphitheater, where he will be returning to his times as "showman", accompanied by several guest artists among other shows and productions. How exciting!Come and listen to Rafael, who denitely has the rhythm in his blood!RAFAEL STEYNERS HAS THE RHYTHM IN HIS BLOOD!AUTHOR: DAGMAR REINHARD41
Page 42
Feng ShuiWe make your living and working space extraordinary by incorporating natural elements. Harmony, health, happiness, and success!We enhance positive areas in your home or property and detect and improve negative ones.Nicole Joss is a Swiss Feng Shui expert living in Ojochal. English – Español – DeutschFire – Earth – Metal Water – Wood8641 3259 smileanddance@bluewin.ch
Page 43
Feng ShuiAUTHOR: NICOLE JOSSFENG SHUI, the Chinese art of interior design, brings us success, health, and an "even" better life.Feng-Shui, literally translated as "wind-water," is the art of living in harmony with the environment. Happiness, prosperity, and health increase. Feng-Shui teaches life in harmony with the ve natural elements: earth, metal, water, wood, and re.Our world and our people are traversed by innumerable invisible but highly inuential energy lines: CHI's vital energy. Life energy is pure vibration that can be measured using frequencies. If our vibration is in the positive range, things get easier for us, and we feel good overall. Feng Shui tries to put the subtle energies of heaven and earth in the best possible relationship with us humans and our lives, especially at home or work. Originally from China, Feng-Shui's application has taken a unique path through Southeast Asia, the United States, and Europe. Large international companies around the world have built and furnished their ofce complexes following Feng Shui. The environment and the rooms affect us with their energies.Feng Shui shows how places, shapes, and cardinal points generate their specic energetic patterns and how these silently inuence us.The Feng Shui application analyzes and groups the forces ofCH'I energy.Places of positive energy support us and collaborate in health, association, success, happiness, and harmony.Places of negative energy, Shar-ch'i, have an unfavorable effect on us.Therefore, Feng Shui consultants strongly recommend not sleeping, eating, working, or sitting any longer in such places. Feng Shui's practice can be used in almost all areas of our life and improves or optimizes our daily being. It is ideal when buying land or planning a building. More and more buyers, architects, and planners are working with a Feng Shui consultant.There are countless possibilities and solutions to redesign or redecorate existing rooms and gardens according to the criteria of Feng Shui.How is Feng Shui determined?The most important basis of Feng Shui is the Pakua, an octagonal symbol showing trigrams, cardinal points, and the elements of nature. Your Feng Shui will be calculated based on these principles to sift out favorable and unfavorable sectors.Favorable places are activated, the unfavorable ones deactivated.A simple redesign also reects optically. All rooms, from singles to villas, seem clearer, more open, and harmonious.With suitable colors, plants, and decorative elements, a large amount of positive CH'I is generated, which has a positive and unconscious effect.43
Page 44
When I started studying tourism as a career at the university, during the university, and even after nishing my studies, the relationship between a Real Estate ofce with tourism and other businesses never crossed my mind.I remember at some point have taken a course where they spoke of initial investment, and they estimated the value of the land and building. Still, it did not go further since it was not the central axis of the course. Due to my lack of experience, I assumed that it was only given an approximate value to the property and did not think about how investors choose the right place to invest in developing their project.After four years of working in the RE/MAX We Sell Paradise ofce, I can say that the role of real estate ofces is crucial in the development of many economic activities (if not most), including tourism activities. Project management often begins in real estate. This is where signicant information is compiled regarding residential, commercial, farms, and lots for sale in the area of inuence where the ofce operates and other regions through linkages between ofces and real estate agents. The characteristics of the properties vary as much as the client's tastes: ocean view, mountain view, close to the beach, immersed in the jungle, and more.The function of the Real Estate is to provide the necessary advice on what are the stocks in the market, prices, the steps to follow in terms of property review procedures, entities where to go for various studies, lawyers who can assist you in case of not having one and much more. Of course, this does not mean that a real estate agent should know absolutely everything. Still, it is the person who helps guide the purchase process, giving the client security and peace of mind that they work with serious and responsible people.Once the property or properties that meet the client's expectations are located, the purchase process begins, which will have a due diligence period and will culminate with the closing of the purchase.Investors make use of and enjoy the various tourist services available in the area as any other national or foreign tourist would do, in activities such as accommodation, food, tours, rent a car, others. Still, their main objective is to invest in one or more properties that at some point will be part of the generation of local jobs in numerous activities in various sectors.For this reason, Real Estate is the rst step in business.REAL ESTATE — THE FIRST STEP IN BUSINESSAUTHOR: DINIA OTÓROLA – WE SELL PARADISE 44
Page 45
tranle AC mdenrai cnaa ReebgbiiroanCHeather MannMobile: (506) 8723 2323Zbigniew (Ben) BodzakMobile: (506) 8723 0795Office: (506) 4702 1307 |www.we-sell-paradise.com | info@we-sell-paradise.com Active member of:OJOCHAL - $419,000 OJOCHAL - $385,000 OJOCHAL - $569,000OJOCHAL - $399,000 TRES RIOS - $000,000 OJOCHAL - $339,000OJOCHAL - $679,000 OJOCHAL - $679,000TRES RIOS $ 799,000OJOCHAL $ 385,000OJOCHAL $ 769,000OJOCHAL $ 569,000OJOCHAL $ 399,000OJOCHAL $ 1,800,000OJOCHAL $ 679,000OJOCHAL $ 419,000tranle AC mdenrai cnaa ReebgbiiroanCHeather MannMobile: (506) 8723 2323Zbigniew (Ben) BodzakMobile: (506) 8723 0795Office: (506) 4702 1307 |www.we-sell-paradise.com | info@we-sell-paradise.com Active member of:OJOCHAL - $419,000 OJOCHAL - $385,000 OJOCHAL - $569,000OJOCHAL - $399,000 TRES RIOS - $000,000 OJOCHAL - $339,000OJOCHAL - $679,000 OJOCHAL - $679,000
Page 46
Office: (506) 4702 1307 |www.we-sell-paradise.com | info@we-sell-paradise.com OJOCHALWelcome to El Paraiso Azul an iconic eco-lodge located on the prestigious Perezoso Road in the sought out village of Ojochal de Osa, famous for its friendly locals, large international ex-pat community, fantastic restaurants and incredible beaches. Located on the first ridge, a demand location with estate homes which overlook the Pacific Ocean as well as magnificent panoramic mountain views.$1,250,000A perfect place to relax, read, socialize, dine or have an afternoon drink.The rancho is a delight filled with the ambiance of archeological treasures of the "Indigenous Diquis tribe."$1,425,000Welcome to the opportunity to own your own tropical resort where the "Reception" is under a tropical "PALMEX rancho" which also hosts the restaurant, lounge, and bird-watching areas.OJOCHAL
Page 47
Office: (506) 4702 1307 |www.we-sell-paradise.com | info@we-sell-paradise.com OJOCHAL - $325,000CHONTALES - $399,000CHONTALES - $299,000UVITA - $410,000 UVITA - $450,000 TRES RIOS - $369,000CORTES - $440,000UVITA - $950,000TINOCO - $135,000UVITA - $845,000RINCON - $1,650,000TRES RIOS - $000,000 SIERPE - $1,570,000OJOCHAL - $275,000CORTEZ $440,000RINCON $1,650,000OJOCHAL $275,000UVITA $845,000UVITA $410,000 UVITA $450,000CHONTALES $369,000OJOCHAL $325,000CHONTALES $399,000CHONTALES $299,000UVITA $950,000TINOCO $135,000TRES RIOS $570,000 SIERPE $1,570,000Office: (506) 4702 1307 |www.we-sell-paradise.com | info@we-sell-paradise.com OJOCHAL - $325,000CHONTALES - $399,000CHONTALES - $299,000UVITA - $410,000 UVITA - $450,000 TRES RIOS - $369,000CORTES - $440,000UVITA - $950,000TINOCO - $135,000UVITA - $845,000RINCON - $1,650,000TRES RIOS - $000,000 SIERPE - $1,570,000OJOCHAL - $275,000
Page 48
Richard OwensRealtorKatherine ApseyRealtorRebecca RowntreeRealtorKevin ChampagneBrokerMarcia OroRealtorKeith RichmanRealtorNelly ReusseRealtorLocal experts with global reach at Osa Tropical Properties Our oce is located in Ojochal, Costa RicaContact our team of expert realtors to buy or sell property inDominical, Uvita, Ojochal, Tres Rios, and Chontalessales@osatropicalproperties.com | www.osatropicalproperties.com+506 2786 5500@osatropicalpropertiesEXQUISITE LUXURY OCEANVIEW ESTATE IN OJOCHAL$1,385,000 | ID # 5289Sign up to our popular weekly newsletter by scanning this QR code